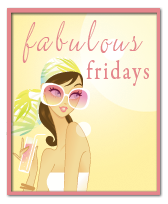 My friend, Danielle, has started "Fabulous Fridays" on her blog. Every Friday Danielle will have a new fabulous theme. If you want to participate, head to her blog. In each "Fabulous Friday" post, there will be a place on her blog to add your name and blog address. That way, anyone that plays along or visits Danielle's blog can see that you've participated and click to see your Fabulous Friday post. Fun idea!

This week's theme is "Fabulous Candy." I'm not a huge chocolate fan. I like chocolate but I don't love it or crave it. However, I do LOVE sugary candy that's very bad for you... gummies, sour patch kids, cherry sours, jelly beans, etc... My favorite candy (right now) is the Gummy Raspberries and Blackberries. Yum...
So, what's your favorite candy?